Study Buddy
A true buddy of children!!
I can do it daily!
One Study Buddy sheet takes 15 minutes a day. Enables the child to attempt it on a regular basis.
I can do it MYSELF!
Easy to understand what needs to be done. Focus on Do-It-Yourself
It is convenient!
List of concepts at the beginning of each pack. Self-afterschool learning. Delivered in multiple packages to keep excitement
It is so much fun!
Thoughtfully designed colorful sheets. Concepts introduced in the form of puzzles, crosswords, stories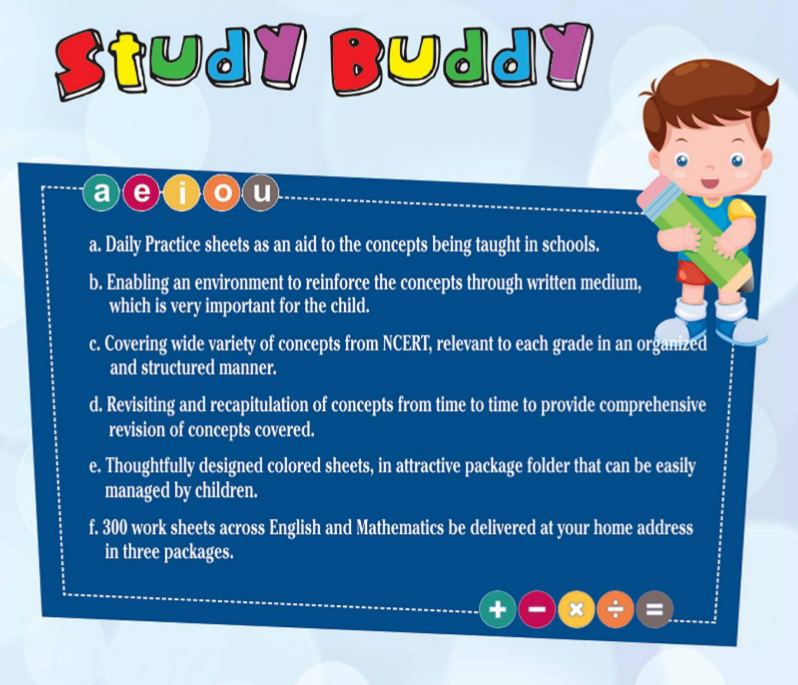 Why Study Buddy?
Daily Practice sheets as an aid to the concepts being taught in schools.
Revisiting and recapitulation of concepts from time to time to provide a comprehensive revision of concepts covered.
Enabling an environment to reinforce the concepts through a written medium, which is very important for the child.
Covering a wide variety of concepts from NCERT, relevant to each grade in an organized and structured manner.
Thoughtfully designed coloured sheets, in attractive package folder that can be easily managed by children.
Delivered at your home address in three packages of 30 -40 sheets (for each subject) to keep the child excited.
Study Buddy Math Sheets
Multiple Practice Sheets to cover basic concepts through different methods.
Using Numbers in a way that challenges the clear knowledge of the concept.
Sheets on mental calculations, so that the child learns the techniques of applying various number operations mentally.
Giving Story sums that a child can relate with.
Making problem-solving simple by taking examples that are part of everyday life of the child
Study Buddy English Sheets
Grammatical Concepts covered in a structured manner while, making the learning process interesting, joyful.
Different methods to introduce multiple techniques of creative writing.
Reading Passages with questions to hone comprehension skills.
Vocabulary building for using the appropriate words with summarized revision at the end of each package.
How We Do
Our Work Proce
ss
Order Online
You choose the class and subject that you want to order
Track your buddy
You will receive a confirmation email once worksheets are dispatched
Practice with studybuddy
You will receive your booklet within 5 working days of placing order